Nov 18, 2014
Houston we've got a problem! I'm currently crushing on the Chloe Marcie bag. The other day I walked into Starbucks and saw a woman carrying the bag in the most luscious red color, dubbed Peony Red by Chloe. The color was reminiscent of the color on the Starbucks holiday cups, which made me think that this would be the perfect bag to pull out during the holidays. It definitely adds a pop of color to a bleak winter day. Of course, it would work well in other seasons. I can picture this bag paired with a white dress eyelet dress in the summer. The photos online do not do it justice, you must see the color for yourself. The bag comes in other great colors and I'm loving the bag in nut (brown) and cashmere grey. Oh, and it's also super cute in the
mini satchel form
!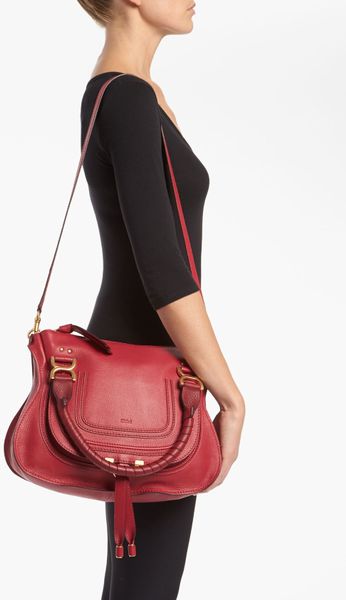 Chloe Marcie in Peony Red
Nov 4, 2014
A few weeks ago one of my close friends and fellow makeup addicts turned me onto
Wet and Wild Mega Last Lip Color
. I was a bit apprehensive to try such an inexpensive lip product. What if the formula was bad? What if there was not color pay off? But much to my surprise, the formula and color pay off was amazing. Other bloggers go as far as to compare them to some MAC lipsticks! I first purchased Think Pink, a brilliant baby pink shade and upon applying it to my lips, I quickly purchased Wine Room and Bare It All. Sure the packaging isn't my favorite, but you can't beat the price. Each tube retails for about $1.99. Most drugstores often run buy one get one half off promotions on Wet and Wild, so you really have no excuse not to try them! The main downside is that your lips must be well conditioned prior to applying the lipstick because it is a matte formula it will cling to dry lip flakes. A swipe of vaseline on your lips each night should fix the problem though. As of now there are 26 shades in the collection, so I'll probably be picking up just a few more...okay maybe a lot more!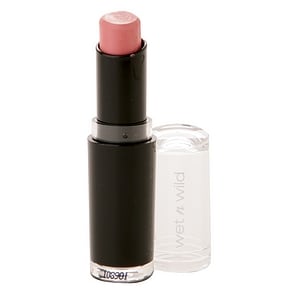 Wet and Wild Mega Last Lip Color in Think Pink
image via drugstore.com