A multipurpose product is efficient and easy on the wallet. For years and years I've heard top magazine editors and Youtubers talk about Aquaphor. Every time I passed it in the drugstore I would look at it and then walk away because I found it to be a little too expensive. I already had tons of products at home, why did I need another one? But one day, I decided to cave and pick up it up. I have never looked back! I keep it at my desk and in all of my purses.
It works to sooth my dry,bloody cuticles and moisturize my heels and elbows in the winter. I would have to say my favorite way to use it is +on my lips. A small dab of this on my bare lips gives my face an instant pick me up. Sometimes I'll even apply it over a lip color to revamp the color after a few hours of wear or put it on top of a matte lip color to make it glossy.
I think it's a pretty great product but I would love if it came in a stick form for easier application. You can find it at any drugstore and online
here
.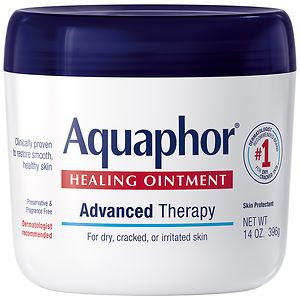 Image via drugstore.com